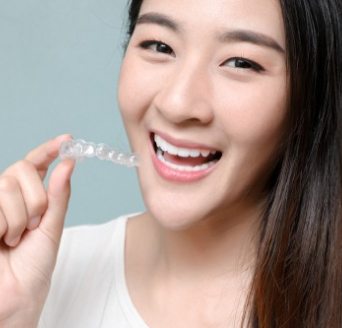 Are you considering Invisalign® but don't know how it works? You're not alone. Invisalign is a popular orthodontic treatment that can straighten your teeth without the use of traditional braces.
In this blog post, we'll explore how Invisalign works and what you can expect from the treatment process. From the initial consultation to the final results, read on to learn more about Invisalign and how it can help you achieve a straighter, more confident smile.
How Does Invisalign Work
Invisalign works by using a series of clear aligners that gradually move your teeth into the desired position. First, an orthodontist scans the inside of your mouth using a 3D scanner that uploads your teeth and structure into a computer program called iTero.
Once uploaded into the iTero program, an orthodontist will virtually move your teeth into the correct position. You can often see an example of how your smile will look during the day of your scan using predictive movements in the software.
The scans your orthodontist took are then submitted to Invisalign where they will design a series of custom aligners based on your 3D scans. After about a week, your new clear aligners will arrive at your orthodontics office.
Since teeth are generally smooth, Invisalign requires small bumps to be placed periodically on your teeth to help with movement. You'll have another short visit to your orthodontist to get the bumps placed on your teeth and pick up about 8 weeks' worth of Invisalign trays.
As you wear the aligners, your teeth will gently move into the final position! Treatment time varies based on your specific issues and goals. You will likely visit your orthodontist about once every 8 weeks during your treatment, which is less than with braces.
This cuts down significantly on the time you need to spend missing work or school to visit your orthodontist. It also allows you to travel farther to see the orthodontist of your choosing instead of the closest one to your home or work. This makes Invisalign great for adults or teens who want to avoid the frequent commutes they would have with braces!
What You Should Expect During Your Initial Consultation
When you arrive at Bluebird Orthodontics for your initial consultation for Invisalign, you'll fill out our new patient paper if you haven't already. We'll then take you to our photo and X-ray room to gather some records.
We take about 6-8 photos of each patient's teeth and bite to have a good record of where you started. We then bring you over to our 3D X-ray machine to get a 3D model of your mouth. This gives our orthodontist a better understanding of what's going on beneath the surface of your gums and makes sure that you are a good candidate for Invisalign.
We'll then take you into one of our private exam rooms for our orthodontists to do a full assessment and find out what your goals for your new smile are! We develop a full treatment plan and determine if there is any dental work needed before you can get started.
Then, we'll go over pricing and what your Invisalign treatment will look like. We'll give you an estimate of how long it will take and show you models of what your smile will look like once treatment is complete!
Patients can usually get started on the same day if no dental work is necessary!
How Long Does it Take for Invisalign to Work?
Your teeth start straightening from the first set of aligners you wear. You should start noticing changes in your smile within the first few weeks. It usually takes around 6-12 months to complete treatment in Invisalign. However, every case is different.
After Invisalign Treatment
Once you have finished your last tray and both you and the orthodontist are happy with your smile, you'll come into the office to have your attachments removed and get scanned for a retainer.
We use the same 3D scanner that we used during your initial visit. Invisalign will make you a custom-fitted retainer to help maintain your smile and keep your teeth from retracing.
For a short time after finishing treatment, you may need to wear your retainers for the entire day just as you wore your Invisalign trays. Once our orthodontist feels confident enough in your smile, you can start to wear them only at night. You should plan on wearing them at night forever if you want to keep your teeth extra straight!
Conclusion
Invisalign is a great way to straighten your teeth without having to wear braces. The process works by using a series of clear, customized aligners that gradually move your teeth into the desired position.
At Bluebird Orthodontics, we take extra care to make sure your teeth look the way you want them before treatment is complete. If you're interested in finding out if Invisalign is right for you, schedule a free consultation with Dr. Hailee today!