Our orthodontist may recommend clear braces in combination with Invisalign® clear aligners to achieve the best results for your smile. Dr. Hailee Rask will carefully evaluate your teeth and discuss your smile goals with you to determine if you could benefit from hybrid treatment. Call Bluebird Orthodontics today at 385-500-7082 to schedule an appointment and learn more about clear braces in Salt Lake City, Utah.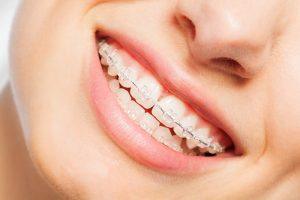 Clear braces are a fantastic option to straighten teeth without the look and hassle of traditional metal braces. We offer clear braces as a discreet and effective solution to straighten your teeth and improve your smile.
There are many benefits to clear braces. They are less noticeable, making it easier for you to feel less self-conscious as you straighten your teeth. Unlike metal braces, clear braces are made from transparent materials, such as ceramic, and blend in with your natural teeth. They can also be more comfortable than traditional braces, as the brackets may be smaller and more rounded.
Our orthodontist may recommend clear braces to patients crooked or crowded teeth or other mild to moderate orthodontic issues who want to improve the appearance of their smile but does not want the obvious look of traditional braces. Our experienced orthodontist can help you determine if clear braces are the right solution for you. During an orthodontic consultation, she will examine your teeth and discuss your options with clear braces. Our friendly team will also be available to answer any questions you may have, so you can make an informed decision.
We are here to help you achieve your best smile. Reach out to a member of our team to schedule a consultation and see how clear braces can transform your smile.