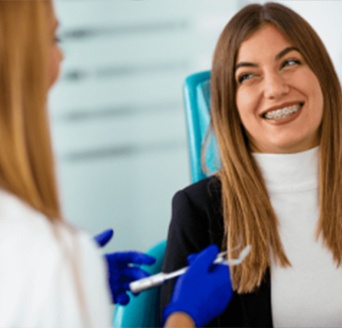 According to the American Association of Orthodontists, one in five orthodontic patients are adults. That means that if you're considering braces, you're definitely not alone! In fact, more and more adults are opting to correct their smiles with braces, and there are a number of reasons why.
Six Reasons Adults Start Orthodontic Treatment
Maybe you didn't have them as a teenager, or maybe your teeth have shifted over time. Whatever the reason, adult braces can be a great way to improve your smile. And with advances in orthodontic technology, adult braces are now more comfortable and discreet than ever before. In this article, we explore six reasons why adults start orthodontic treatment.
They Never Had Them As Children
One of the most common reasons why adults opt for braces is simple: they weren't able to get them as children. Maybe their family couldn't afford it or maybe their teeth just weren't ready at the time.
Now that they're adults and have the means to pay for it themselves, they're finally getting the chance to correct their smile. And that's something to be excited about!
Orthodontic Relapse
One of the most common complaints orthodontists hear from adults is that their teeth have started to relapse, or move back out of alignment. In many cases, this can be traced back to a failure to wear a retainer after braces are removed when they had them earlier in life.
When braces are first removed, the teeth are still in a fragile state and need to be supported in order to maintain their new position. Wearing a retainer helps to keep the teeth in place while they continue to settle into their new positions.
However, retainers must be worn as directed by your orthodontist in order to be effective. For best results, we recommend wearing a retainer for at least 12 hours per day for the first year after braces are removed.
After that, you can switch to wearing your retainer at night only. If you don't wear your retainer as directed, your teeth may start to shift out of alignment again. So if you want to keep your smile looking its best, make sure to wear your retainer as directed!
Before A Big Event
Your wedding day. Your high school reunion. Your first date in years. Big events can be nerve-wracking enough without having to worry about your teeth. If you're self-conscious about your smile, adult braces may be the perfect solution for you.
Straighter teeth not only look great, but they're also easier to keep clean – meaning you can flash those pearly whites with confidence. And there's no need to worry about adult braces being too noticeable – today's options are smaller and more discreet than ever before. So if you're looking to boost your confidence for a big event, adult braces may be the way to go.
Professional Reasons
Another common reason why adults get braces is because they want to improve their appearance for professional reasons. In today's professional world, first impressions are more important than ever, and having straight teeth can help show others that you care about your oral health. If you're looking to make a good impression, straight teeth can definitely help.
Correct A Facial Asymmetry
Any adult who wishes to improve the appearance of their teeth should consider straightening them. Not only can this help to create a more symmetrical appearance, but it can also make your teeth appear larger and your smile more attractive.
In addition, straightening your teeth can also help to improve your oral health. When teeth are properly aligned, it is easier to brush and floss them effectively, which reduces the risk of cavities and gum disease.
Improve Self Esteem
Finally, many adults simply want to feel better about themselves. Whether your teeth have always bothered you or you've started to notice them shifting as you age, wearing braces can increase your confidence and help you feel better about your smile.
There's no need to feel self-conscious about your smile as an adult. More and more adults are opting for braces to achieve the straight teeth they've always wanted. And with improvements in clear treatment options such as Invisalign aligners, most people won't even know you've started treatment! And what's not to love about that?
Types of Braces For Adults
Just because you're not a teenager anymore doesn't mean you're too old for braces! In fact, adult braces are becoming more and more common. There are a variety of different types of braces that can be used to straighten teeth, and your orthodontist will help you choose the best option for your situation.
Metal Braces
Metal braces are the most common type of braces, and they are also the most affordable. However, they are also the most visible. If you're looking for a more discreet option, clear or ceramic braces may be a better choice.
Clear Braces
Clear braces use clear brackets that blend in with your teeth, making them much less noticeable. They still work in the same way as traditional metal braces but are just much less visible, especially at a distance.
Invisalign®
For adults who are concerned about the appearance of their braces, invisible aligners such as Invisalign® may be the best option. These aligners are made from clear plastic and are practically invisible when worn.
Conclusion
If you're an adult considering braces, know that you're definitely not alone! More and more adults are correcting their smiles with braces every day, and there are a number of reasons why.
Whether you didn't have the chance to get them as a child or you want to improve your appearance for your big day, braces can have a big impact on your life. So don't wait—if you're considering braces, now is the perfect time to take the plunge! Call our offices today at Bluebird Orthodontics to set up your free consultation.